Focus
TEOS POWERTRAIN ENGINEERING focuses on the design and development of gasoline and Diesel combustion engines, electric and hybrid powertrains, and associated gearboxes.

Activities
Through our highly skilled engineering team, we offer the most competitive and time efficient solutions on the powertrain market. Our approach covers a vast range of activities from research and development studies to design and prototype manufacturing. Moreover, the close partner relations between Teos Powertrain Engineering and its mother companies Mecachrome and IFPEN allow us to accomplish the complete project management chain including advanced research, concept development, powertrain testing and serial manufacturing.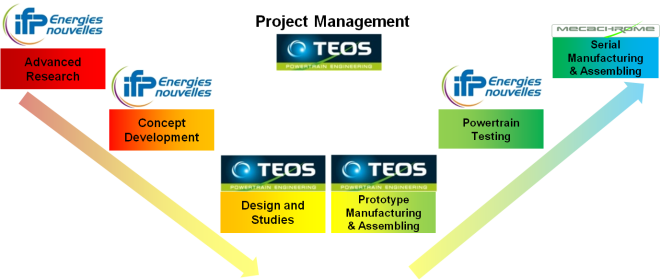 Sustainable Development / Social Responsibility
TEOS POWERTRAIN ENGINEERING is engaged to sustainable development of powertrain activities aiming, on a daily basis, to develop more efficient and less fuel consuming propulsion systems, preserving the green environment.
Facing the challenges of the climate change, our company accomplishes innovative solutions and responds to the needs of today's market, visioning a brighter future for the modern society.